People often ask if fat people can skateboard. The answer is definitely yes – but it's not always easy. Skateboarding involves a lot of balance and coordination which can be tough for anyone to master, no matter what their size.
But with practice, anyone can learn to skateboard – including people who are overweight or obese. However, some believe that anyone can skateboard, regardless of their size.
So don't be afraid to give it a try! You may surprise yourself with just how good you can become.
Weight and Skateboarding: Does It Matter?
Skateboarding is often seen as a carefree activity, but weight can be a factor in skateboarding performance. Heavier skateboarders may have more difficulty with certain tricks, and lighter skateboarders may be able to fly higher on ramps.
Ultimately, it's up to the individual skater to decide what works best for them. There are pros and cons to both being heavy and light in the world of skateboarding.
Being heavier can make flipping the board around easier since there is more weight to work with.
Ollies may also be easier since there is more downward force that can be applied to the tail of the board.
On the downside, heftier skaters may find it harder to get air on ramps and may have more difficulty maneuvering the board in general.
Being lighter has its advantages too.
Lighter skaters can get more air time, which is great for doing tricks like grabs and flips.
They may also find it easier to control the board at high speeds.
Lighter skaters may have a harder time with certain street skating tricks that require more body weight to execute properly.
In the end, it comes down to what works best for the individual skater. There are benefits and drawbacks to being heavy or light in skateboarding, so it's up to each person to experiment and find what suits them best.
There is no right or wrong answer when it comes to weight and skateboarding. It's all about what works best for you. So get out there and start shredding, matter how much you weigh!
Injury risk for fat skateboarders
As a general rule, Beginner skateboarders are more likely to get injured than experienced skateboarders. This is especially true for overweight or obese individuals, who are at an increased risk for injuries due to their extra weight.
There are a few things that you can do to help reduce your risk of injury while skateboarding:
1. Wear proper safety gear
This includes a helmet, elbow and knee pads, and wrist guards.
2. Warm up before skating
Take a few laps around the block or skatepark to get your muscles warmed up before doing any tricks.
3. Don't try anything beyond your skill level
Stick to basic tricks and maneuvers until you've mastered them before moving on to more difficult tricks.
4. Skate in a safe area
Avoid skating in traffic or on busy streets. Stick to skate parks or other designated areas for skateboarding.
5. Be aware of your surroundings
Watch out for obstacles and be aware of who or what is around you while skating.
Following these tips can help reduce your risk of injury while skateboarding. However, even if you take all the necessary precautions, there is still a chance that you could get injured. If you do sustain an injury while skateboarding, it's important to seek medical attention right away.
Some common skateboarding injuries include:
Sprains and strains
Fractures
Concussions
Contusions
Lacerations
What is the weight limit for skateboarding?
There is no official weight limit for skateboarding, but most boards can accommodate riders up to 200 pounds. Some boards may have a higher weight limit, while others may be designed for lighter riders.
It's always best to check with the manufacturer or retailer before purchasing a board to make sure it can support your weight.
Heavier riders may need a more durable board, while lighter riders may prefer a lighter board for easier maneuverability. It is important to choose a skateboard that best suits the rider's individual riding style and needs.
Can a big guy easily break a skateboard?
The answer to this question depends on a few factors such as the size and weight of the skater, the type of skateboard, and how much force is applied.
Generally speaking, however, it is difficult for a big person to break a skateboard simply by skating on it. More likely, the board would need to be hit with something or dropped from a height for it to break.
So, it's possible but it would require quite a bit of force. Skateboards are designed to be durable, so it would take quite a bit of pressure to snap one in half. A big guy could do it if he put his mind to it, but it wouldn't be easy.
Skateboards for Heavy Riders: How to Choose the Right skateboard?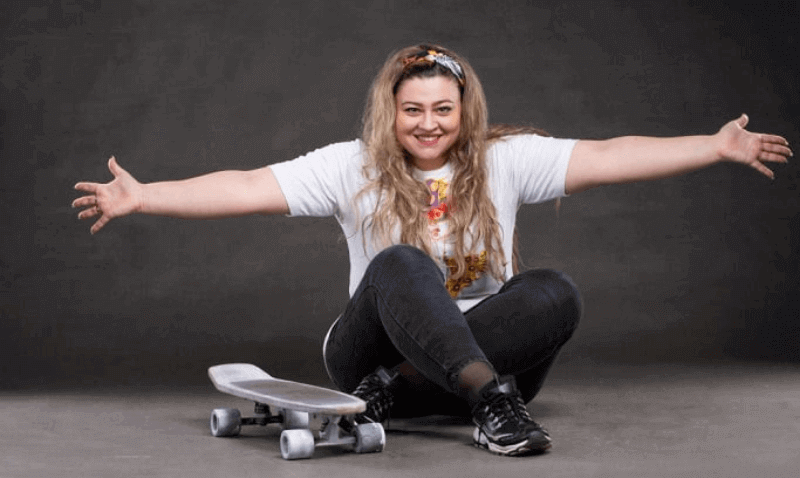 Choosing the right skateboard is important for every rider, but it becomes especially critical for heavier riders. A good skateboard can help a heavy rider enjoy skating more and perform better tricks.
Additionally, a board that is too small or not meant for heavy riders can cause problems and even lead to injuries.
When choosing a skateboard for a heavy rider, it is important to consider both the weight limit of the board and the size of the deck. Most importantly, the weight limit should be significantly higher than the rider's weight; otherwise, the board may break during use.
The size of the deck is also important because a heavy rider will need more stability and balance than a lighter rider. A larger deck may be necessary to provide this stability.
FAQs – Can Fat People Skateboard?
How much weight can a skateboard support?
The average skateboard can support up to 200 pounds of weight. However, this number will differ based on the quality of the skateboard and its components.
For example, a higher-end skateboard with better bearings and wheels can support more weight than a lower-end board.
Can a 300 lb. person skateboard?
The answer to this question is not a simple one. It depends on a variety of factors, including the person's weight, the type of skateboard they are using, and their skating ability.
That said, a 300 lb. person can skateboard. If they have the proper equipment and skating ability, they can enjoy the experience. Just be aware that it might take a little more effort than it would for someone lighter.
Can you lose weight from skateboarding?
Yes, you can lose weight from skateboarding. Skateboarding is a great way to burn calories and get your heart rate up. You can burn up to 500 calories per hour skateboarding.
Skateboarding is also a great way to tone your leg muscles. If you want to lose weight and tone your legs, then skateboarding is a great activity to do.
How long should I skateboard a day?
It depends on your skating goals and how much time you're willing to commit to skating. However, most experts recommend skating for at least 30 minutes a day if you're looking to improve your skills and technique, and 60 minutes a day if you're trying to build muscle and endurance.
Is it hard to balance on a skateboard?
The answer to this question depends on the person's level of experience with skateboarding. If someone is a beginner, it may be difficult to balance on a skateboard at first. However, with practice, it will become easier to balance on a skateboard. Experienced skateboarders can easily balance on their boards.
Wrap Up
Fat people skateboarding is becoming more and more popular, with videos of larger skaters shredding the streets going viral online. While some think that fat people shouldn't skateboard because they might be "taking up space" on the board or sidewalk, we believe that everyone should be able to do what they love regardless of their size.
Skateboarding is a great way for overweight and obese people to get active, have fun, and lose weight. So go ahead – grab your board and hit the pavement! Have you ever seen a fat person skateboarding? What was your reaction?