KPC Pro is a complete skateboard that is made with Canadian maple wood. It has a 7.75 inches deck with 52 mm wheels attached with enduring aluminum trucks.
Due to the long-lasting structure, it is a comprehensive product for skateboard stunts and skates rolling.
As it is produced by KPC so some skate lovers recognize this product with the name of Krown Pro skateboard.
Krown is a well-reputed company that serves for skateboard production since 1996. This company provides the best budget skateboard all over America and surroundings. It offers a price range of nearly 20$ for adult skateboards and for professional products they charge less than 150$.
Due to their long-lasting products, skate lovers trust them with blind eyes. The core objective of Krown Company is to provide price point skateboard gear in the American market.
According to price and quality, all goods of Krown company related to skateboard gear such as skateboards, longboards, helmets, pads, and even tools are unparalleled.
KPC Pro Skateboard Review 2022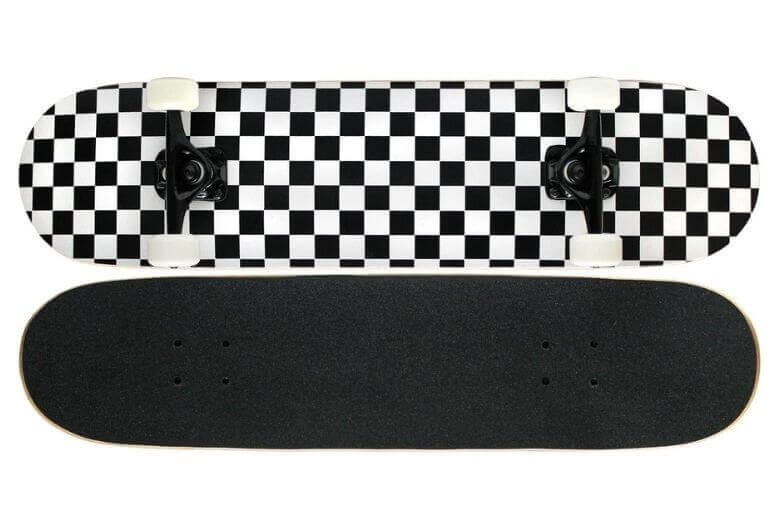 Now I am going to expose some superior features of the KPC Pro Deck that make it the best choice for new and expert riders. Due to these features, people prefer to order this product confidently.
Related Topic: Minority 32 Inch Maple Skateboard Review
KPC Pro Skateboard Features
1) Perfect Size & design

Normally the common width of a pro skateboard is nearly equal to 8 inches and the length is equal to 32 inches. So KPC Pro Skateboard fulfilled the given size criteria of a pro board.
If someone tries to learn an advanced trick in skating and wants to buy a rookie skateboard model then this board is also a perfect choice for himself. Because it is perfect for beginner and intermediate riders.
Its concave design helps riders to learn fastly.
2) Fully Assembled
All products of Krown come with a completely assembled condition. This skateboard also comes ready to ride condition and never demands any assembly or tool kit. Company fixes all essential parts of a complete skateboard such as trucks, wheels, bearings or even black grip tape.
3) Rookie Model
It is the latest model of KPC Pro Skateboard that has some additional benefits for experienced riders. Its construction is diverse from a regular skateboard.
4) Manufacturing With Quality Component
High capacity 5.0 Metal truck
Friction less ABEC 7 bearing system
Head Mounting hardwood deck
99 A high-rebound urethane wheels
80 Grit Black Grip Tape
Every element completely satisfies all quality standards and enhances the trust factors of customers. Heavy-duty Aluminium trucks make this item strong and perform a pretty vital role while skating.
Due to the ABEC bearing system, skate guys enjoy friction-free journeys with little physical efforts. It's hard maple wood deck also makes it stronger and modern concave shape helps while Skateboard stunts.
It works very effectively while skate rolling due to 52 mm wheels. Grip tape is an essential component of any skateboard because it provides foot grip on the deck.
Also Read: Top 10 Best Skateboard Decks for Street
5) Design & Color Variations
The KPC-315 skateboard model has a variety of designs and colors. All are highly attractive and adult lovers. Some are especially designed for skating Girls and some designs according to boys' choice.
6) Best for Tricks
This skateboard is extremely recommended for new kids who want to learn skateboarding and experienced riders who want to improve their skating tricks.
Is KPC Pro Skateboard Good For 360 Boneless Tricks?
Yes, you can perform 360 boneless tricks on this skateboard with an easy & efficient way.
This skateboard is good for both regular street use and skate parks. But try to avoid big cracks and rocky surfaces. It has unisex design due to which it is beloved by boys and girls both.
And the weight capacity of this product is approximately 200 pounds. It is a great model for turns and concave riding.
Final Words
I hope this guide helps to answer all questions about KPC Pro Skateboard.
It is a cheap skateboard that fulfill all qualitative standards. A product that has a maple wood deck, classic bearing system, metal truck and premium wheels in just less than 40$ is difficult to find.
So it's worth buying a complete pro skateboard pre-built checker pattern 7.75 in black in white. You also choose another color according to your own choice.