Are you looking for a skateboard for your child between 6-8 years old and don't know what features to look for while buying a beginner skateboard? Do not worry! Because we have got you covered. As here in this article, we will be giving you all the information regarding the best skateboards for your child.
Most children quit skateboarding if their parents buy them cheap skateboards because they are made up of plastic or some wooden plank that does not support the sport's hang. Further, the wheel and bearing never spin because they are made up of polymer instead of urethane. Nominal thin ply woods will break easily. Not to forget, the trucks are constructed of cheap caste metal.
If you are afraid of all these issues and want to buy the best skateboard for 8 year old or 6 years old, then continue reading because this article is for you.
7 Best Skateboards for 8/6 Year Old Kids
1) White Fang – Standard and Tricks Skateboards for Kids
Top Pick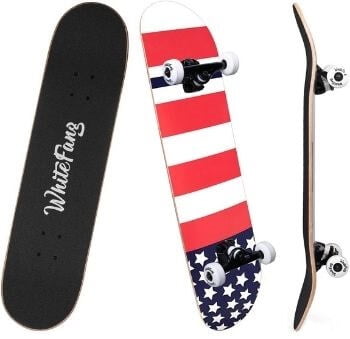 Specifications
Brand: White Fang
Deck length: 31.75 inch
Deck width: 7.88 inch
Solid and durable
Biconcave from edges
Smooth wheels
White fang skateboard is the best skateboard for 6 year old because the foot holding capacity is ideal. Now, you can quickly learn new skateboarding tricks and techniques by the concave structure at the edges. Further, the skateboard deck is carpeted with sandpaper that will hold your feet tight at the place and prevent falling from the skateboard.
Further, the size of the skateboard is perfect for beginners. The front length of the concave is 5.9 inches, and the concave back length is 5.5 inches. Further, it can bear up to 400lbs of a child's weight. The wheels turning is smooth and produces no sound when gliding on the ground.
White fang skateboard can serve fashion statement for you with its hard graphic design: especially the diamond arrows and minimalistic black and white contrast color usage. The colors are permanent and vibrant because they are printed through a thermal color transfer procedure.
Pros
Good weight balance.
Smooth wheels.
Easy riding.
Vibrant colors.
Cons
Only for beginners.
Slightly uncomfortable truck.
2) Powell Golden Dragon Flying Skateboard
Top Pick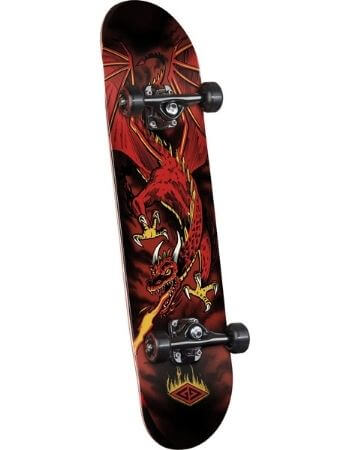 Specifications
Brand: Skate One
Deck length: 31.625 inch
Deck width: 7.625 inch
Durable and stiff
Ligament board
Grippy top board
Powell golden dragon flying dragon is the best skateboard for 8 year old and above age children, as it is pocket friendly and made up of highly durable material. The wheels are designed especially for beginners and made up of polyurethane material. You can easily replace the tires as well with other wheels.
Further talking about skateboard deck, the deck's width 7.6 inches, and the length is 31.6 inches. The deck is made of ligament board that provides stiffness. Ligament boards are good to prevent snapping of the board and show high resistance to weight. The tail of the board is printed with vibrant colors and 6.6 inches in length.
The wheels are very smooth with a high rebound. The diameter of spins is 54mm, width is 37mm, and hardness is 99a. The wheels support the tricks of beginners' level and those who are pro in skateboarding. Powell golden dragon skateboards are manufactured in china using maple veneer sources and glue suppliers.
Pros
Decent for beginners.
Trucks perform well.
Grip tape prevents falling.
High performance.
Cons
Wheels are hard.
Uncomfortable for cruising.
3) DINBIN Highly Flexible Skateboard with Rebound PU Wheels
Top Pick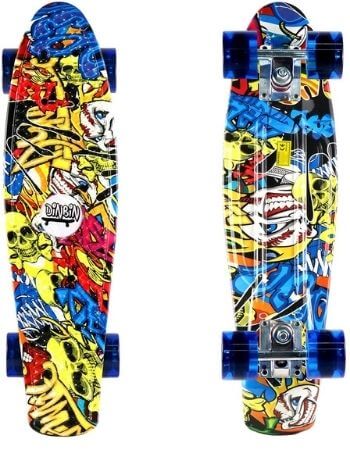 Specifications
Brand: DINBIN
Deck length: 22 inches
Deck width: 6 inches
Plastic board
Stainless steel bearing
Compact size
DINBIN plastic cruiser is made up of plastic body, making it highly portable with a total weight of 4 pounds. Further, this skateboard's safety has CE certification, making it the best skateboard for 8 year old children. The skateboard's length is 22 inches, and the deck is 22.6 inches, making it easy to ride for children.
Further, the tensile bolts and polyurethane wheels make it easy to take sharp turns for riders' level. The maximum load capacity is 220 pounds which means not only children but teenagers can also ride it. The wheels' width is 60mm, and the hardness is 78a, which makes the gilding of wheels very quiet and smooth.
The pink color of DINBIN skateboards is specifically designed for girls. You can now use your personal "girl pink" skateboard to commute and take rounds around the city. Further, the 85A soft brushing and high-speed wheel bearing allow you to learn and improve your skateboarding skills.
Pros
High in safety.
Good balance.
Smooth ride.
Lightweight.
Cons
Average bearings.
Wheel needs cleaning
4) Skate XS Beginner Panda Street Kids Skateboard
Top Pick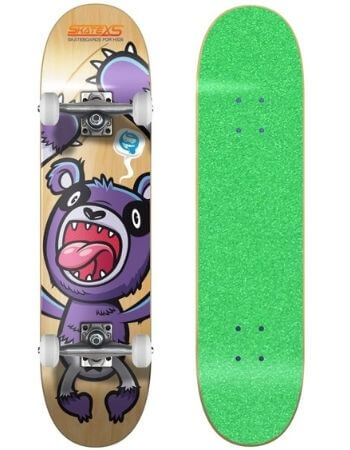 Specifications
Brand: Skate XS
Truck: ABEC 7
Bearings: 53mm
Bamboo board
ABEC-7 bearing
Wheels hardness 90A
Skate XS beginners skateboard is the best skateboard for 8 year old and older kids that know how to perform tricks. However, you can call it the supporter skateboard because it is an adequately sized skateboard for early pushers. It is made up of bamboo material that makes it environment friendly and is high in strength.
It is highly flexible and gives room for kids to learn the true spirit of skateboarding. Further, bamboo material is suitable for cruising on long roads without getting snapped. The lightweight makes it easy for kids to hold in hands, and the perfect deck size allows safe riding and easy balance.
The quality of skateboard is equal to X-games skateboards. The wheels' hardness is 90A which allows smooth sliding on the lush surface and various surfaces. Further, the combination of colors will enable you to choose which color suits your style best. Skate XS has high pre-lubricated bearings, which you can easily remove to clean.
Pros
Lightweight.
Extremely flexible.
Attractive artwork.
Strong deck.
Cons
Small in size.
Only for kids.
5) SKITCH Complete Skateboard Gift Set
Top Pick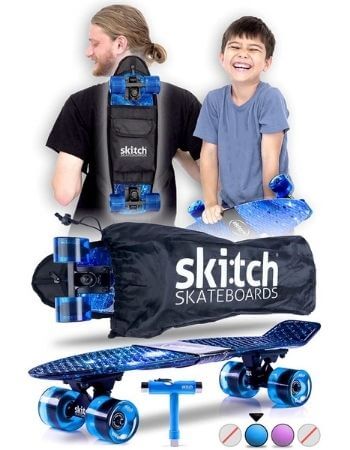 Specifications
Brand: Skitch
Deck length: 22 inches
Deck width: 6 inches
American skateboard design
Plastic board
Speed control bearings
Skitch skateboards are the best skateboard for 6 year old children. Because it comes custom design bag pack, skateboard tools, and tote bag. Further, the high-quality wheels make your ride smooth like butter. The board's deck is 22 inches in width, making it suitable for teenagers to ride it.
It is made up of durable plastic material, which is efficient against rough roads and sharp turns. The weight-bearing capacity is efficient enough to make easy bends. You can balance easily on skitch skateboard regardless of your weight. Further, the tools that come along with the skitch skateboard allow you to customize the board as per your need.
 You can easily adjust the wheels and bearings as per your speed and cruising needs. Moreover, skitch board has riser pads for improved carving with minimal vibrations. The wheels are made up of polyurethane and are highly adjustable.
Pros
Reliable truck.
Strong deck.
Anti-slippery deck.
Easy to carry.
Cons
Wheels might tear-off.
Compact size.
6) Runyi Plastic Mini Cruiser with Handle Colorful LED Light PU Wheels
Top Pick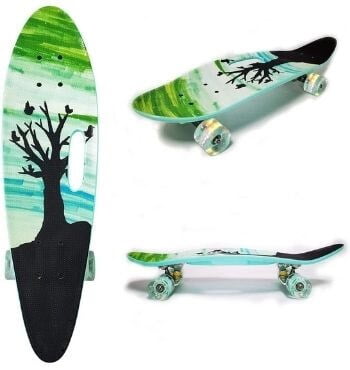 Specifications
Brand: Runyi.
Deck Width: 6 inches.
Deck Length: 26 inches.
Carries 200 pounds.
Suitable for kids and adults beginners.
Four unique and cool designs.
We are introducing you to the best skateboard for 8 year old. This 26-inch plastic mini cruiser retro skateboard has unique looks without compromising on the quality and features. It is manufactured of highly flexible plastic. Runyi skateboard has Thick Aluminium Paint Trucks that measure 4 inches.
However, it is highly durable. Plastic mini-cruiser retro skateboard by runyi weights about 4.5 pounds, but still, it can bear the load up to 200 pounds. The wheels of this skateboard are constructed of rigid material "polypropylene" while measuring about 60 mm. Wheels with LED lights will make the kid more motivated toward skating. This mini skateboard is lightweight, which means it is easy to use.
No doubt selecting this skateboard would be the best decision. The price of this mini skateboard is highly affordable. Nothing can be better than an offer that gives you both quality and affordability. Well, this skateboard has both. Be quick to order this cool skateboard for your toddler.
Pros
Rigid Material.
Durable.
Lightweight.
Easy to carry.
Cons
Plastic.
Smaller deck width.
7) Skateboards Mini Cruiser Retro Skateboard for Kids
Top Pick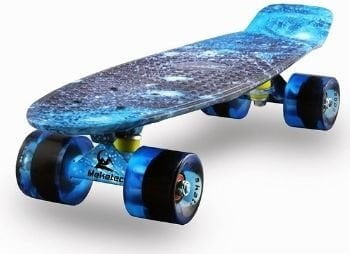 Specifications
Brand: MEKETEC.
Deck Width: 6 inches.
Deck Length: 22 inches.
78A durometer hardness.
27 unique and astonishing designs.
Carries up to 200 pounds.
This mini skateboard by MEKETEC is designed for kids. Meanwhile, it behaves well with adult beginners. The stunning appearance of this skateboard will make your toddler fall in love with sports. It is constructed of a plastic deck and a compact body. It makes it handy.
Mini skate's deck is made up of plastic, while the aluminum trucks make it amazingly durable. 60 mm wheels are highly rigid as they are made up of polypropylene. The wheels are extra-large, which means it is even best for beginners, as it helps in learning and practicing their skills. Your child will love this skateboard.  As the wheels of this skateboard have a 78A durometer, and which is why riding on the various surfaces is easy with this mini skateboard by MEKETEC.
Your child can enjoy an enjoyable and speedy ride. Thanks to ABEC-7 bearings. This product is available in 27 astonishing graphics and designs. You will fall in love with every design so as your kid will. Order this fantastic affordable, yet most great skateboard for your toddler.
Pros
Easy to use.
LED lights in wheels.
Wide range of designs.
Cool appearance.
Cons
Smaller in size.
Designs are not the same as images.
Buying Guide about Best Skateboards for 8 Year Old Kids
No doubt, quality matters in everything. While buying the skateboard, make sure you choose the right shop or a trustworthy brand. You may come across skateboards that are constructed of weird material like bamboo, fiberglass or plastic.
Make sure you avoid those products. The high-quality skateboards are made up of 7-ply maple. Check the skateboard by dropping and look how rigid the board is.
Size and shapes matter a lot while choosing the best skateboard. It would be best if you chose the skateboard which has the shape that benefits your skill. After all, a skateboard with a wider wooden deck is way convenient than a skateboard with a smaller wooden deck. If we talk about size, then in skateboards, we have to consider all its parts.
The fact where you ride your skates has a huge impact on the life of your skateboard. It is why it is very crucial to check the wheels of the skateboard while buying. If you ride your skateboard in the skate parks, you should prefer the skateboard with smaller wheels.
It would be best to prefer a skateboard with bigger wheels for street skating, which should be 49-42 millimeters. If you are a person who likes vert or transition skating, then make sure the wheels of your skateboard measures up to 54 to 60 mm.
The wooden deck is the most highlighted part of the skateboard. Usually, people prefer the attractive wooden deck rather than choosing a durable wooden deck. For durability, you have to check the size and hardness of the deck. Ask the seller for a test skating, and check the texture of that wooded deck. It should be hard and rough.
If you prefer street skating, then make sure your wooden deck width measures 7.5 to 8 inches. While if you skate at parks, so in that case, like 8 inches or more than it. The length should be 30 inches as it gives you vast space, making it easy to move or flip the skateboard.
The truck size refers to the size of the wooden deck. You have to check the axle length while purchasing your skateboard. The axle length should match the width of that wooden deck. Ensure that when the truck is on the skateboard, it fits the deck's width equally.
It should neither stick out nor in. If you are purchasing the skateboard with the wooden deck measuring up to 8 inches, your truck should be 149mm.
Graphics Are not Important
No doubt, design and the way products look play a vital role, but graphics and designs are not important than the size, durability, and quality of the skateboard. However, as a fact, graphics will fade with the time this choice looks over quality is not going to benefit you.
If you choose a simple look yet high-quality skateboard, then you can transform the skateboard's looks with time. Moreover, the high-quality skateboard will serve you longer.
Related Article: Best Skateboard Helmets for Kids
FAQs about Kids Skateboards
i) How do I choose a skateboard for my child?
If you are stepping towards the purchase of a skateboard for your child, it is imperative to take care of multiple factors, and this way, you will end up buying the best skateboard for your child.
The age of the child matters a lot. So, while purchasing, make sure you pay for a suitable product for your child's age.
The quality of the place where you is a point that impacts a lot on a skateboard. If you are looking for a durable skateboard for your kid, prefer a high-quality skateboard.
In the end, everything depends on your budget. No matter, you have a small or huge budget. You will even get good quality at affordable prices. Some of them we have discussed above.
ii) How much should I spend on my child's skateboard?
The price part depends on the fact what you are willing to have on a skateboard. If your child is a beginner, then you spending 55-100 dollars is excellent. Meanwhile, if your child will use it regularly, then spending 75-150 dollars is the best option.
iii) What size skateboard should an 8 year old have?
While purchasing a skateboard for their lovely 8 year old kid, the people usually get confused while choosing the board's size. However, the best skateboard for an eight-year-old child should have a 7.75 wide deck. Moreover, preferring a skateboard with an 8inch deck and 31-inch length would be great.
iv) What is the best skateboard for nine years old?
Skitch Premium Skateboard is the best skateboard for a nine-year-old child. This skateboard has impressive features. Premium skateboard by Skitch is constructed with a significant bearing that helps you reach the fastest speed. However, rotating the wheels of this skateboard is effortless and smooth. Your kid will enjoy the safe and exciting ride with this skitch premium skateboard.
Conclusion:
Now you are all set to buy the best skateboard for 8 year old and the best skateboard for 6 year old. However, while choosing a skateboard must consider three things: your need, safety, and purpose before buying a skateboard. For instance, if you want to purchase a skateboard for purely transport purposes, you must invest in White Fang Skateboards for Beginners.
Otherwise, if you want to learn skateboarding new tricks, you should look at DINBIN Plastic Cruiser.  However, if you want both at the same time but at a lesser cost, you should check Skate XS Beginner Panda Street Kids Skateboard.