Skateboarding is a best hobby to enjoy freedom in life. Because it helps riders to show off their skills and give wings to fly them in the air.
Minority products are highly durable according to skateboard construction and deck manufacturing. According to market research, this brand always wins quality standards & skaters trust.
Minority 32 Inch Maple Skateboard Review (2022)
Now we have listed verified customer reviews about the top 2 best minority skateboards that help you to choose the best one for yourself.
1) MINORITY 32 Inch Maple Skateboard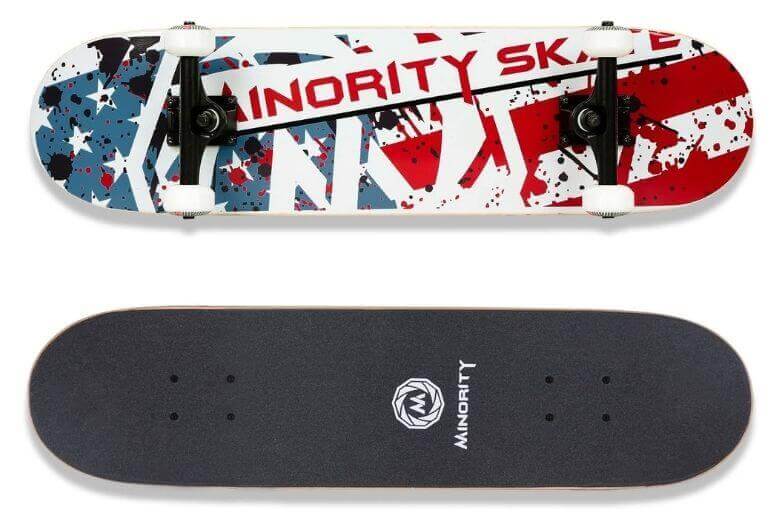 Pros Of Minority Skateboard
Fantastic strength
7-ply Hardrock Deck
Supports Up to 220 lbs.
Cons of Minority Skateboard
Not for less than 5 Year Old
Demand wheels care after a long ride
It is a masterpiece of Skateboard engineers with a spacious kick tail & nose that helps riders while performing tricks and stunts.
It is the best choice for all types of riders from beginner to experts. Because its turning accuracy and responsiveness helps newbies to learn skills and be appreciated by experts for showing off their skills.
Essential Feature of Minority Skateboard
1) Deck & Truck Construction
Skateboard deck is constructed of 100% Maple wood and cold press with epoxy glue that makes it more elastic and shock absorbent. Its 7-ply hard rock deck has length to 32 inches and the width of 8 inches.
Trucks play an essential role in skateboard manufacturing. So Minority skateboards contain 5-Inch rust-free hardware aluminum trucks that are equipped with carbon steel kingpin and 78 A high rebound PU bushing. Due to durable construction it bears up to 220 lbs weight.
2) Speed
Skateboard speed depends on the many factors but most important is wheels size and bearing quality. In that case, Minority skateboard also won the comparison. It contains chrome steel ABEC-9 precision bearings system that minimize road friction and help to speed up riding.
For tricks competition, 52 mm 102 A PU wheels are the best choice that this product also has and capable riders to reach top speed within three power paddle. Due to PU wheels and efficient bearing system, riders enjoy this skateboard while drifting, rolling and skating as well.
3) Board Design
Minority skate deck passed maneuverability tests that prove that it is best for skating on streets, ramps, and pools. Because its cutting edge board helps for all types of riders to enjoy physical performances.
4) Graphics Art
Minority boards offer attractive graphics ranging from trendy to vintage that help to choose this board as a gift for others. It also offers 5 different colors and awesome graphic designs at the good price range. 
Minority skateboard are also a good why to show interest toward art. Because this company designs all skate decks according to the designer of different cultures and riders for different tastes.
That's why these artwork is highly liked by boys, girls, kids and experts. Graphics of minority decks never fade with time because these are printed according to the latest printing technology.